Overview
Medicinal products in Malaysia are regulated by the Drug Control Authority (DCA). The DCA was formed under the Drugs and Cosmetics Regulations (CDCR) 1984 from the Sale of Drugs Act 1952. DCA is also a stakeholder for quality control activities, licensing and post-registration activities. The National Pharmaceutical Regulatory Agency (NPRA) carries out scientific and technical reviews, inspections and surveillance activities of the medicines. Additional activities carried out by the DCA include – Cosmetic registration and reporting of ADRs (Adverse Drug Reactions). NPRA, Malaysia, is one of the participating authorities in PIC/S.
Medicinal Product Classification 
Medicinal products are classified into following categories:
New Drug Product (NDP)
Biologics
Generics [Prescription Medicine & Non-prescription Medicine, Over the Counter (OTC)]
Health and Food Supplements
Natural Products
Veterinary Products
Medicinal Gas
Medicinal Product Registration
It is important to determine the category of a product due to the different Regulatory requirements for different pharma product registration activities. If unsure of the product category, the applicant may submit a classification form, which can be downloaded from the NPRA website (www.npra.gov.my).
The pharmaceutical product applicant is known as the Product Registration Holder (PRH). A PRH must be a locally incorporated company, corporate or legal entity with permanent address and should be registered with Companies Commission of Malaysia. For any foreign medicinal product manufacturer, it is mandatory to have a local entity or local presence in Malaysia to carry out Regulatory activities and registration procedures with the NPRA. The appointed agent would then be responsible for all the matters relating to product quality, safety and efficacy.
Registration of products shall be done via a web-based QUEST 3+ Online System and the drug company must follow the ASEAN common technical documents (ACTD) to be certified as compliant.
ASEAN Common Technical Document (ACTD)
| | |
| --- | --- |
| Parameter | Certificate/Document required |
| Quality | GMP certificate, Product testing data- specification, Microbial limit test and other required quality document if required |
| Safety | Preclinical & Clinical analysis data, product information - warning labels/precautions/drug interactions/adverse effects and other required safety document if required |
| Efficacy | Clinical trial data- Phase 2 & 3, Bioequivalence studies and other required efficacy document if required |
Regulatory Pathway for Registration of Medicinal products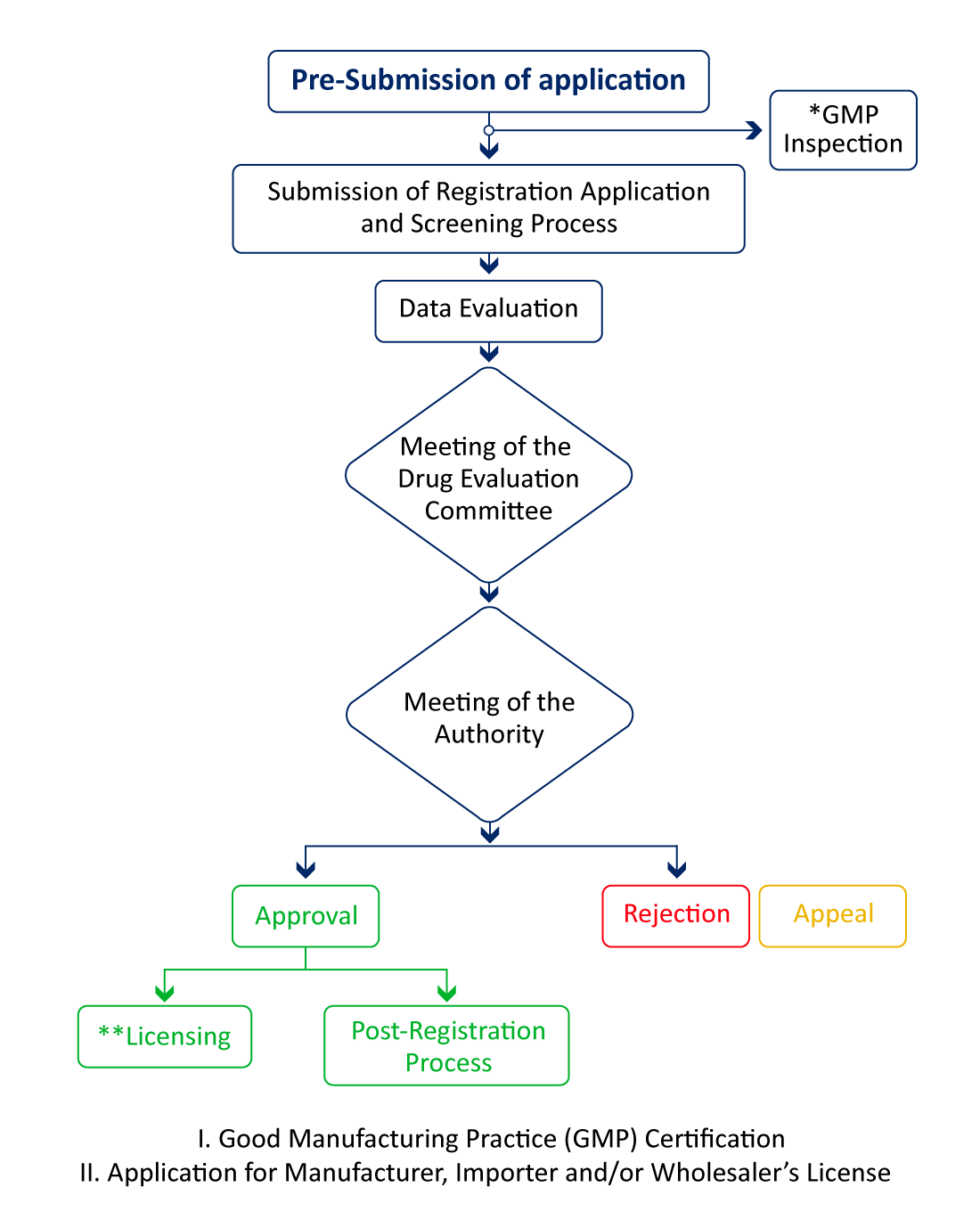 If manufacturing site is in any of these reference countries - USA, Canada, UK, Europe, Japan, Australia and Singapore, NPRA site visit is not required unless they have a certain reason for inspection and the review process can be expedited.
API manufacturers are required to have WHO GMP certification to register their finished products. The WHO GMP certification is mandatory to get the site and product registration.
Product Maintenance & Compliance
| | | |
| --- | --- | --- |
| Sr. No | Application | Validity |
| 01 | Validity for Registration Certificate | Five (05) years from the date of registration |
| 02 | Renewal of Registration certificate | The renewal application should be submitted six (6) months before expiration of the existing registration certificate |
| 03 | Post-approval Changes (Variations) | Any change of registered medicine should be sent to the NPRA with relevant documents, case-by-case basis. |
Freyr Expertise
Authorized Local Representation
Product Classification
Regulatory Affairs Consulting and Pharma Market Access
End-to-end Pharmaceutical Product Registration
Gap Analysis, Pharmaceutical Dossier Preparation and Submission to the NPRA
Preclinical Services (Generation of Scientific Report for Regulatory Submissions)
Import License Application
Change of Product Registration Holder
Ad-hoc Regulatory Affairs Consultation